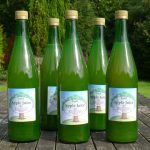 Tuell Farm Apple Juice – Price: £1.75 per bottle or £15.00 for 10 (plus postage if not collected)
Tuell Farm has 2 organic orchards with apple tree varieties that are original to the Tamar valley. These apple varieties have been chosen for juicing and cider making, rather than for eating.
We use no artificial fertilizers, pesticides on our land, with nothing added or taken away from the apple juice; it is as pure as the land intended, then pressed and bottled, to give a distinctively delicious juice that is not too sweet.
Tuell farm apple juice is grown, pressed and bottled on the farm, so we know exactly what goes into the bottle!
The apple juice has a slightly sharper flavour than processed apple juice, as the varieties of apples are grown for juicing and cider making rather than for sweet eating apples. The smell and the flavour of the apples is very distinctive, with a sense that you are drinking really pure delicious juice straight from the press. We have found it is very beneficial in the winter for sending the colds and coughs away, packed full of Vitamin C.
Delicious apple Juice grown from original Tamar Valley variety apple trees
Grown in organic wildlife orchards with nothing added or taken away from the juice
Less sweet and more flavorsome than processed apple juice
Gently pasteurized to retain goodness and flavour but allowing the juice to be stored if not opened.
Grown, bottled, & pressed at Tuell Farm Free Bottle of apple juice for all our guests Cider also available, sweet & dry